We would like to introduce a simulation of the side view of cataract surgery devised by the director of our clinic.
You can operate photoshop format files (PSD files) on the monitor screen.
The size of all items is unified so that 0.02mm becomes 1 pixel.
All instrument images were taken by the director of our hospital's instruments.
The anterior segment cross section is a standard cross section created from anterior segment OCTs of multiple Japanese adults.
How to use
Click the photo to see the enlarged JPEG file.
To operate, download the PSD file and open it with image editing software such as Photoshop*.
You can perform intraoperative simulation by moving and rotating the instrument and overlaying it on the anterior segment image.
You can move the digital scale to measure any distance.
*You can open it online without installing anything by visiting the site photopea.com.
First, right-click on the "PSD file" on this site and "Copy link address".
Then select "Open More" from "File" of photopea, select "Open from URL …" and paste the address in the box.
sample file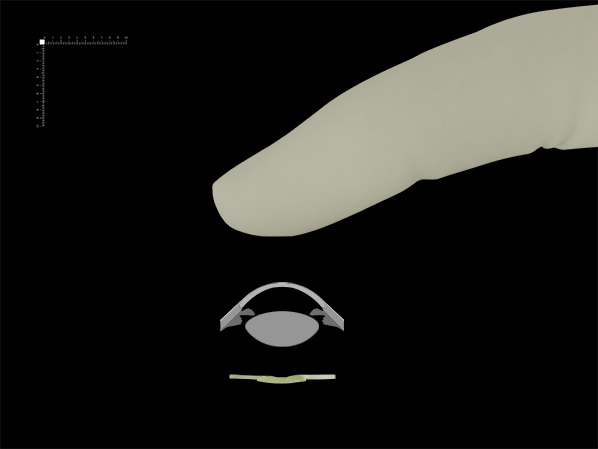 PSD file,here!
Digital Scale (10mmx10mm)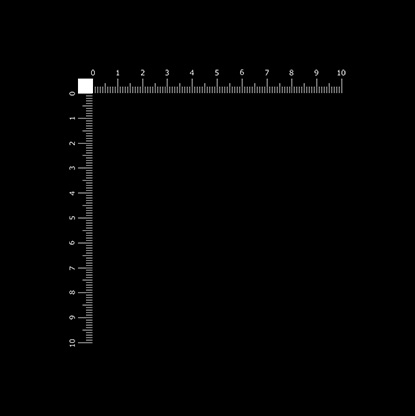 PSD file
---
Surgical Procedure
Creation of Wounde
CCC / Hydrodissection
Phaco
IA
IOL injection / Hydration
Keywords:
MVR-lance 19G (MANI) MVR19
Top Opthalmic Needle
slit angled 2.75mm(MANI) SH SL27SH
Top Injection Needle 25Gx1(0.50x25mm)
Forceps Capsulorhexis Inamura (D&K 2-716G…discontinued)
Forceps Micro Capsulorhexis Ikeda (Eye Technology FR-2268)
Scissors Yae Multi-Purpose (Eye Technology FR-2278)
Miyoshi Ultimate Hydrodissection Cannula 23G(ASICO AE-7643)
Signature straight phaco chip 20G(AMO)
Hook Nucleus Dividing and Separating Tokuda(INAMI M-136)
Chopper Miyoshi(INAMI M-2105)
M-Hook Nucleus Dividing and Separating Minami(INAMI M-1101)
Akahoshi Combo Prechopper(ASICO AE-4284)
Signature IA chip 21G(AMO)
Aspiration/Irrigation Unit Simcoe (INAMI M-104
Irrigation Handpiece 0.5 mm irrigation port conical tip oval tube 0.95
x 0.55 mm (Geuder-22107)
Aspiration Handpiece 0.25 mm aspiration port conical tip oval tube 0.95
x 0.55 mm textured (Geuder-22106)
TECNIS OptiBlue iTec
PCB00V
Hook IOL Sinskey Curved(INAMI M-127C)
2020.10.2